Wow, what a transformation, the colour really lifts the interior, you must be pleased with the outcome.
Tony
---
I'm delighted with it. I'm hoping it wears well.
Today, my new tools arrived so that I could get the Princess head back together, namely a proper camshaft clamping tool and a micrometer. Went for an old fashioned mechanical metric micrometer since it's a tool I use so rarely it seemed a bit wasteful to get one that needed batteries. There also wasn't really any price difference between this nicely made old tool and a cheap new one built to a price.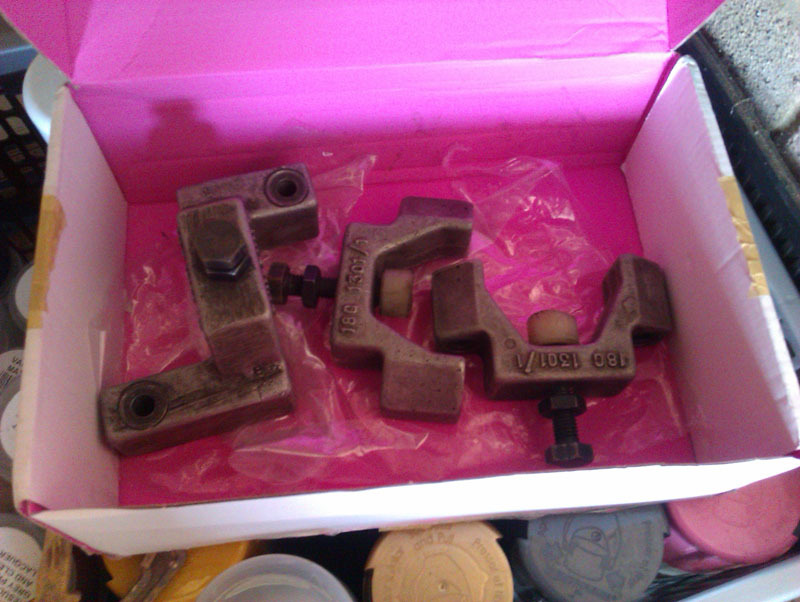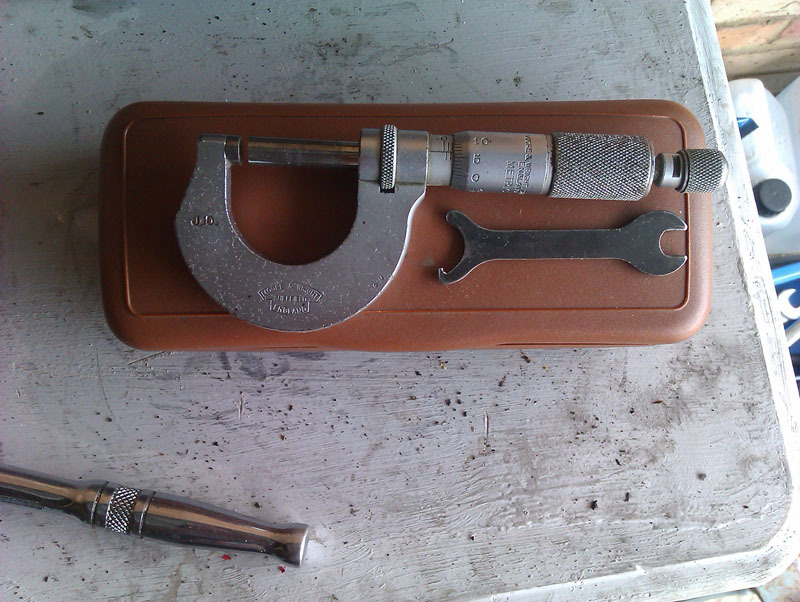 If I'm really lucky, the shims I already have in the two heads I've got will have the sizes I need between them to suit the new valves. We shall see.
---
New valves have all been lapped in, this took less time than I was expecting, got to nice clean even surfaces fairly quickly. This is possibly due to the valves having only just been done before I bent everything, I just expected the new valves to require more work to align.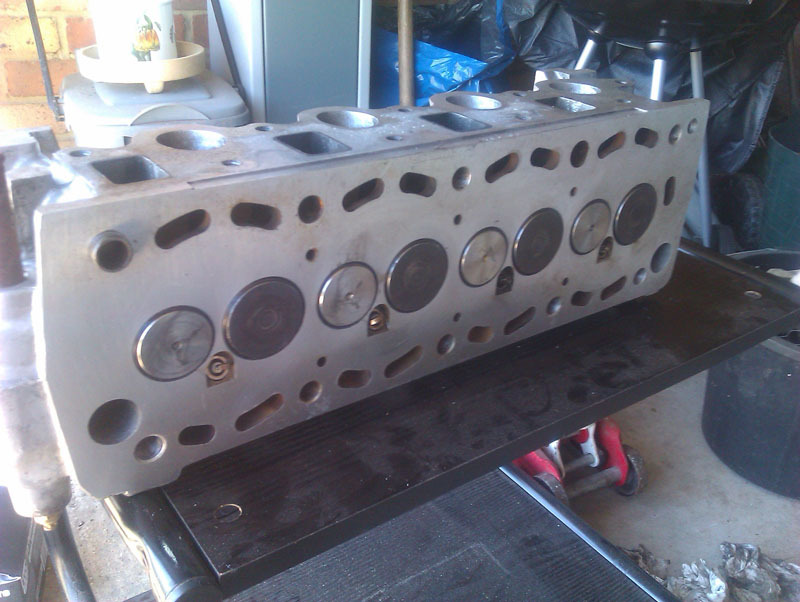 Unfortunately I didn't have time to do more than fit the camshaft clamp ready for measuring the valve clearances tomorrow, so that's what I did and that's where we leave it for now.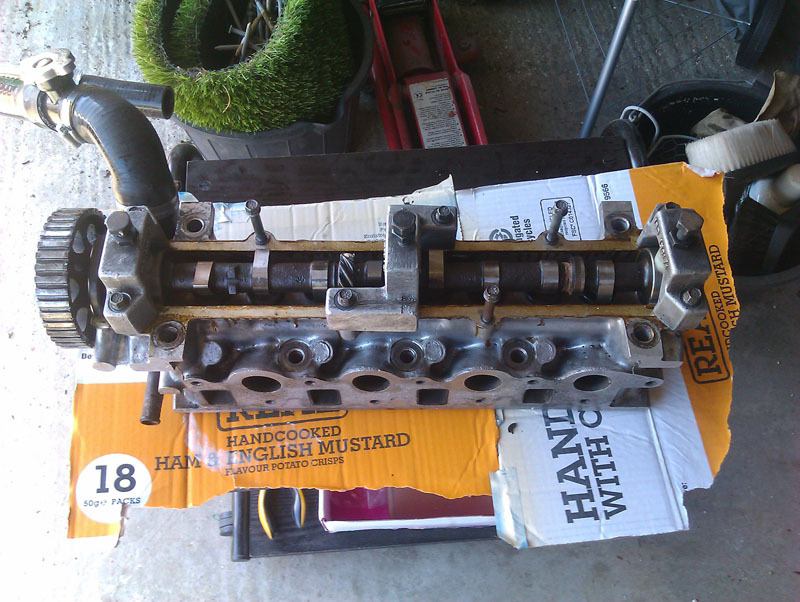 ---
Spent some time today trying to get the valve clearances what they should be. The book states Standard Tappet Clearance to be .30mm plus or minus 0.03mm. It also states adjustment is only required if clearances are below .20mm. I was going to do this job in the shade in the garage until I found how frustrating it was to try and turn the crankshaft without everything sliding off my wobbly table, so I improvised with some cardboard and loosely bolting the head to the block. This made measuring etc. a lot easier.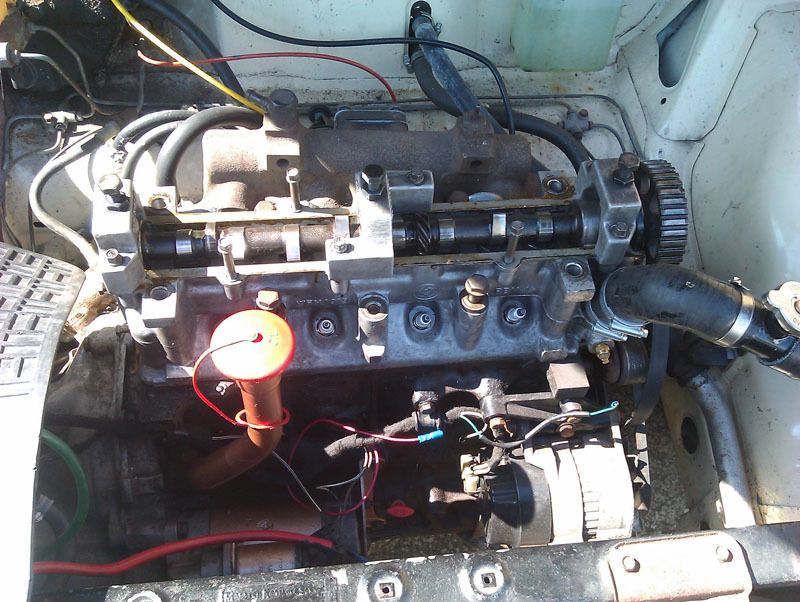 After measuring everything I had my first readings. I hadn't changed the order of any of the shims from how they were previously, the only change was fitting the new valves.
From left to right we had .35mm, .10mm, .40mm, .30mm, .45mm, .05mm (just, this one very tight), .45mm, .20mm
I then did some maths to figure out what size shims I needed along with measuring and labelling all the shims out of the head I was working on so I could figure out what best went where.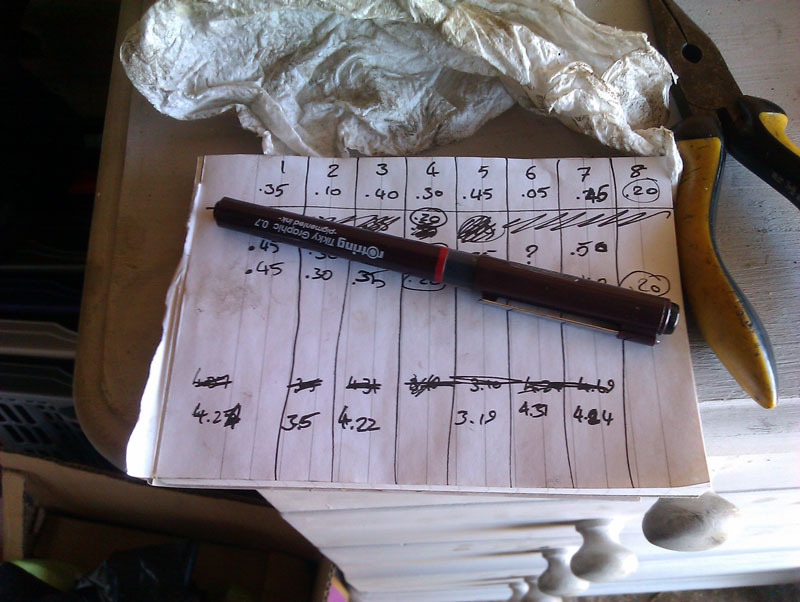 This quickly became quite frustrating as I didn't have exactly the shim sizes I wanted, so I shuffled things around to try and improve and got:
.45mm, .30mm, .35mm, .20mm, .35mm, too tight to measure, .50mm, .20mm
I then robbed the shims out of my spare head to try and improve matters, most of the shims in that head were a good bit thicker, and even with those the only measurement I improved was getting #7 to go from .50mm to .40mm
I ran out of patience at that point. I was too hot and working in a spot I couldn't shade. I'm going to have another crack at this tomorrow when I've more free time to devote to it, I suspect if I do a bit of shim swapping I might be able to get the numbers a bit more balanced, moving the .20mm ones into the .45 and .50mm ones might just balance things out so we're more in the .30-.33mm range.
I have a lot of shims that are too big and I was wondering if it's safe to file or sand them down to the thickness you want since they are, on the face of it, just a disc of steel.
---
There's no problem in reducing the thickness of shims but ideally they should be engineered to ensure they are evenly thick
Martin
Club Treasurer

Owner of:
Oldest known surviving wedge, hand-built 15th Pre-Production Wolseley in June 1974
Last Ambassador down the line in November 1983, Austin Ambassador VDP
---
General consensus concurs with that too, it seems shaving down shims is something you do when there's no other option for whatever reason, like the size you need being between the sizes available, or just that you can't get hold of a shim... or "it'll do" mentality.
A bit more maths, old metal tools, and the arrival of some new assembly lube happened today.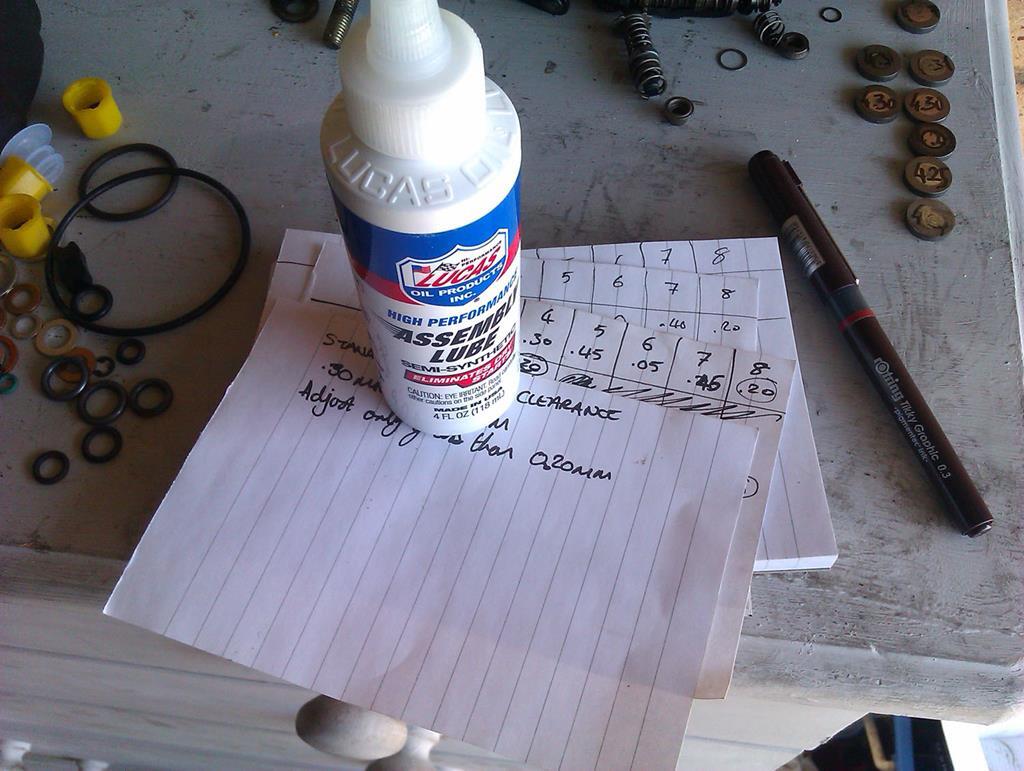 The shims measure 15.5mm across, and the desired gap is .3mm (give or take .03mm). After a bit of swapping and measuring and generally reminding myself that I really do dislike the tedium of this particular sort of job, I finally had what is probably the best set of measurements I'm likely to get from the shims I have, without modifying said shims.
.30 (4.24 shim)
.30 (3.5 shim)
.30 (4.20 shim)
.20 tight (4.24 shim)
.30 (3.19 shim)
? can't quite get my 0.05 feeler in there, and that's the smallest one I have (3.08 shim)
.30 (4.31 shim)
.30 (3.07 shim)
That leaves me with just 2 to correct and that shouldn't be too difficult. 4 is easy to resolve, I just need a slightly thinner shim than I have available, 6 it's probably best to remove the shim and measure the gap to get some idea of where it ought to be. Given how much tighter 6 is than all the others I did wonder if the valve was sticking and did check, all appears to be fine and not sticking, so I guess the gap on that one is just a lot tighter for whatever reason. Ran out of time to do more on this today so tomorrow I'll take a look at what 6's gap is without the shim.
---